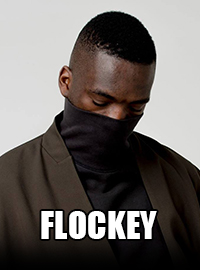 His charisma is his trademark and his style is inspired by funk and soul. He is recreating himself as an artist but never forgets who he is and what his art should testify. Affected by James Brown and many more, he inspires the world while teaching in the category Locking and Souldance. He is a creative mind, who always has new ideas to reinvent the Locking dance.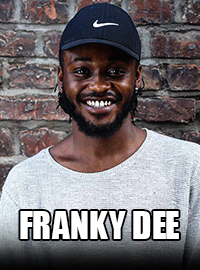 Franky Dee is one of the most talented young german dancers and the proof that hard work and determination can pay off. His style could be described as unique and his understanding for music is phenomenal! His dance is a mixture of floor moves, technique and musicality. He is the winner of Juste Debout International 2014 in the category Hip Hop, creator of Me against the World and member of the Deetroit Rockstarz Crew.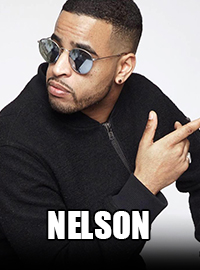 Nelson is world-famous and one of the most respected Popping dancers. He is the winner of this year's Juste Debout International in the category Popping. Nelson spreads out so much passion and fun while dancing. Therefore he is a big inspiration for all the dancers in the world and a role model for every dancer of any style and level because of his pure love to the dance. His dance is art that wears his personal flavor.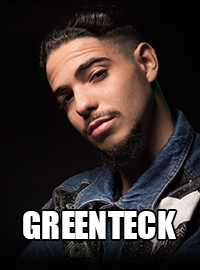 Popping dancer Greenteck comes from the far Montréal, Canada. He won the international Battle Juste Debout Paris, and many other big battles and championships. Greenteck is known for his precision and impeccable technique in popping. Meanwhile he also is the organizer of a successful event, named Clean Fresh Air and Cloud Cypher, which both promote the Hip Hop scene.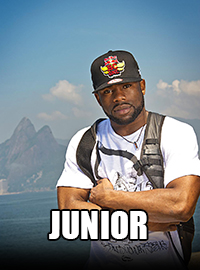 BBoy Junior is one of the best Breakdancers worldwide. He is member of the crew Wanted Posse, part of the Flying Steps World Tour and impresses always with his unique and amazing style. He draws his power not only from his arms but from his whole body. Therefor he creates moves that no Bboy can imitate that easily. His discipline and fighting spirit helped him a lot to become this legend in the world of breaking.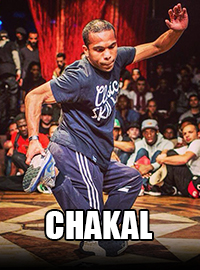 BBoy Chakal, memeber oft he crew Bad Trip has been dancing since 2004. After three years of hard working training in break dance, popping and locking, several contests and hours of choreographies, his creativity and motivation lead him to Bboying. Fascinated by the Hip Hop Culture, he is more than ever determined to make this its professional career, to spread his energy and share with other dancers in order to keep on improving his skills. He won the Red Bull BC One Cypher in 2013 and i spart oft he french crew Enfants Prodiges.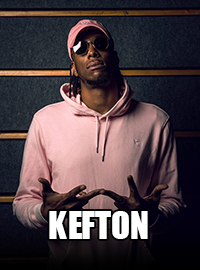 Kefton is member oft he crews Prophenomen, Serial Steppers and Enfants Prodiges and is considered as one oft eh strongest Hip Hop Dancers worldwide. He has been dancing for over 10 years and won several Battles like Dance Delight and Fusion Concept. His Style is powerful and energetic.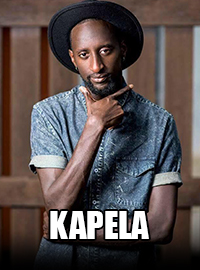 Kapela is member of the French crews Wanted Posse and Serial Steppers who set a big impact on the urban dance culture. His unique House dance Style, is characterized by musicality and feeling. He did not only win Juste Debout, he also was the Judge of Juste Debout 2017.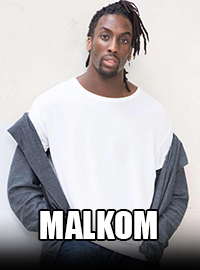 Malkom is part of the crew Serial Steppers. He won several Battles, like Juste Debout and many more. In his House dance he combines Floorwork and Footwork and raises it to a new level. He has developed his style by focusing on his creative side.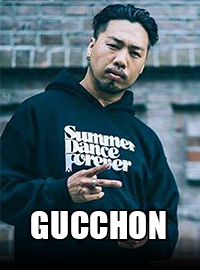 He has mastered his craft in such a way, that one could call him a genius: Gucchon, the famous popper from Japan and part of the Co-thkoo crew, an artist with control, flow and original creativity who started dancing at 18 years. He won Juste Debout twice, performed shows and judged at several battles throughout the world. Gucchon established his own studio in Osaka, Sunny Hood, where he focuses on the next generation of dancers.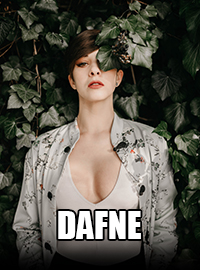 Dafne is a successful italian dancer based in Paris. She is member of the Scandalize Crew and known from music videos like "gal dem deh ya" by Konshens and Dj Mike One or Live Performances for RDX, Mr. Vegas, Movado, Krys and many more. She also judged Juste Debout Dancehall in 2016. Dafne will teach you some dope dancehall steps and techniques.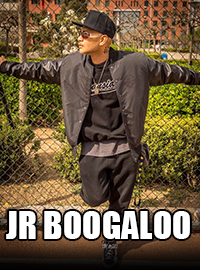 Junior Boogaloo is one of the longest known Old-School Popping-dancers worldwide. He has been dancing almost all of his life and has influenced the Hip Hop-scene at all times. His style is super various and that's why he distinguishes himself from other dancers. He won the B-Boy Summit Popping Contest 2006 in California, Unity ad Respect in Boston, Old School Night in Osaka and was runner-up at Juste Debout in Paris, France in 2006 and 2008. Since the beginning of his career he has been travelling around the world to teach the philosophy of Hip Hop and to share his passion for dancing.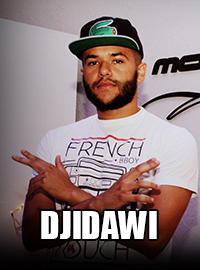 Djidawi is a well-known Popping dancer from France and part of the Legion X crew. He judged Juste Debout in 2014 and won competitions like Defipayette. His creation "Big UP", arose through 15 years of artistic experience, which he wants to pass on in form of a seminar to dancers. His goal: To push their self-confidence, to pursue their goals and to be motivated to follow dance as a profession.

As a member of the Crews Bad Newz MP, K-Mifa and the Show Red Bull Flying Illusion, he won Juste Debout international in the category House and Hip Hop, numerous times Funkin' Stylez, Cercle Underground and many more. His unique style is full of power, energy and technique – even in the smallest movements!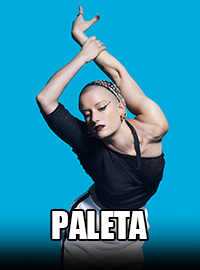 Paleta was born and raised in Switzerland. With the ability to channel her spiritual awareness and gifts into her performance, Paleta mesmerizes her audience all around the world and has been able to build a reputation for herself as a uniquely talented individual. She is judging a variety of competitions and battles around the UK and Europe such as UDO World Finals and Battle Room, presenting her own theatre work at different Hip Hop and urban dance festivals – Breakin' Convention and Breakthrough Festival – and teaching classes and workshops around world.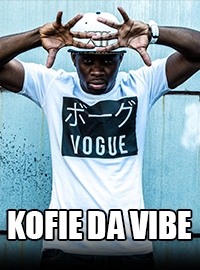 Kofie da Vibe aka Kiddmaddrip is an international dancer, teacher, organizer of EBS and IBIM Production, representing Bad Newz MP, Buckmanz and the Evolution Team. He was one of the first dancers who represented Germany in the urban scene. Kofie gathered a lot of experiences during his career; amongst other things he is one of the students of Tight Eyez, the creator of Krump. Kofie will represent both, Krump and Hip Hop, at the Free Spirit Festival.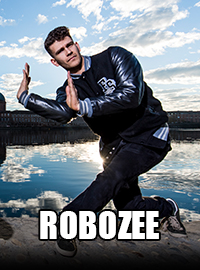 Creator, Inventor, Storyteller. He is member of the Animatronik crew and the show Red Bull Flying Illusion! His craft: Popping, Tutting and Waving. He is a world renowned artist in the fields of dance and improvisation. Throughout his career, he has won numerous competitions, including the BOTY Popping Battle and Funkin' Styles World Team Battle.
He has the capability to transform and visualize while dancing and with every move that he creates, he releases all of his energy and soul.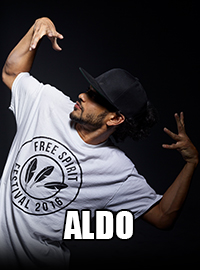 Member of the crew Bad Newz MP and Deetroit Rockstarz, dancer of the show Red Bull Flying Bach, member of the Evolution Team and last but not least organizer of the Free Spirit Festival! He won battles like Juste Debout Germany, Cercle Underground and SDK. Aldo is a master of dancing with the capability to show you different styles while dancing incorporating flow, foundation and technique. He goes deep in every style and lifts it up to a new level. Besides this, he spreads love, knowledge and good energy, especially in his workshops.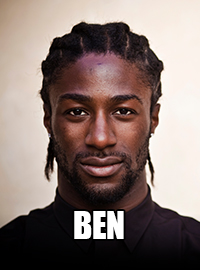 Ben, member of the crew Bad Newz MP and Legion X, is a world champion in Hip Hop dance and his love to the dance leads him to new experiences in the whole world. But he stays humble even if he is worldwide known and respected. He has an incredible understanding for the music and takes inspirations from different styles, dances and situations in life to create his own style.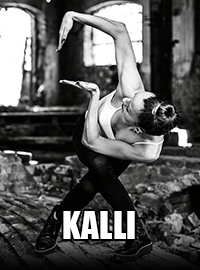 Her style could be described as a mixture of fluidity, precision and contrast. She is a specialist in waving and tutting with a creative mind and technique. During her workshop she will exchange with you and she will show you different aspects of the Popping dance to help you to progress and expand your creativity and knowledge.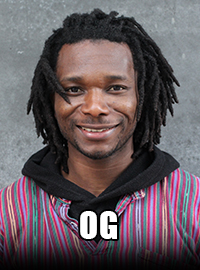 Rhythm, flow, footwork, creativity, spirituality and humbleness. OG, member of the crew Afree House is winner of several competitions like Juste Debout, House Dance Forever 2017 and many more. His unique style is based on House feeling and includes elements of Capoeira and African and Latin dance styles.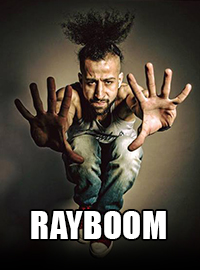 Rayboom is a member of the crew Bad Newz MP and part of the Red Bull Flying Bach Tour. The Teacher, Choreographer and Dancer combines Hip Hop-, Popping-, House- and Locking Styles with elements from martial arts, salsa and contemporary dance. He will teach Hip Hop as well as Dancehall during the Festival.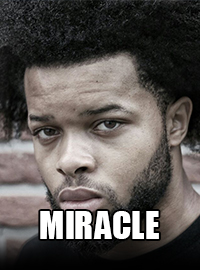 Miracle, member of the crew Deetroit Rockstarz and representing the Free Spirit collective, won several competitions in the last couple of years. His style could be described as a mixture of footwork, isolations and floor moves while expressing his own musicality. During the Free Spirit Festival Miracle will explain his understanding of musicality to you and how he is using his body to play with the music.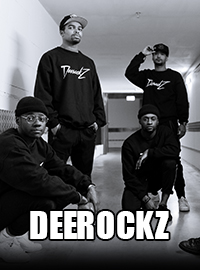 Five guys representing the crew spirit! Franky Dee, Snu Dee, Miracle, Beckz and Joe Dee – Everyone of them makes the crew with his own dance style unique. And every time they dance, they lose themselves in the music. They practice together, inspire each other and find new techniques. They show that a crew works together as a family.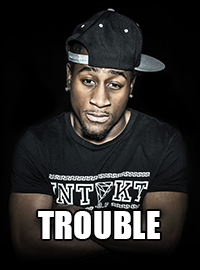 Trouble is a well-known dancer of the Krump scene, who inspires and captivates the audience. Since 2009 he addresses his focus on Krump and Popping. Trough dancing he is travelling a lot and shares his passion in Battles and Sessions. He won several Battles like Urban Champs and is EBS World Champion of 2017.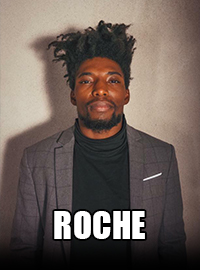 Roché has been a part of the Dutch and international dance scene for more than 14 years. He won several competitions like Juste Debout, Spin off and SDK World Finals and has been making a name for himself as a Trainer, Coach and Choreographer. At the moment Roché is working on some theater projects and is teaching in several Dutch dance schools. His passion and support for the urban scene made him one oft he biggest inspirations for a lot of international dancers.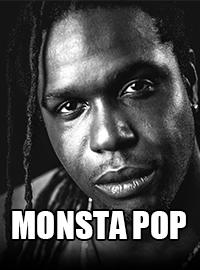 MonstaPop aka HYA, member of the ASSASSINS crew, is a crazy popping dancer based in Canada. He has judged battles like Funkin Stylez and won battles like Summer Dance Forever. He is known as a technical experimenter and innovative dance creator. Come by and get inspired by his animation skills.